If you find that your child is somehow not taking to the Chinese language the way you hoped, we've got some good news: your child can still fall in love with it — if it is introduced to them appropriately and engagingly!
At Star Learners, we believe in turning every lesson into an adventure for our little ones. We make lessons playful and interactive by linking them to things that they enjoy, taking away the intimidation they may feel. 
For example, many children enjoy singing nursery rhymes and playing games. We incorporate the use of Chinese into these activities creatively. As they learn in interesting and interactive ways, children inevitably develop a love for the language. 
To deepen their understanding, we also expose our children to Chinese culture. Calligraphy, brushstroke painting and traditional paper cutting lessons are carried out in our classrooms, allowing the little ones a holistic learning experience.
Of course, such learnings are best complemented at home. To help parents out, we share some ways to create a positive and stimulating learning environment, to make learning this language much more fun, engaging, and rewarding for young minds!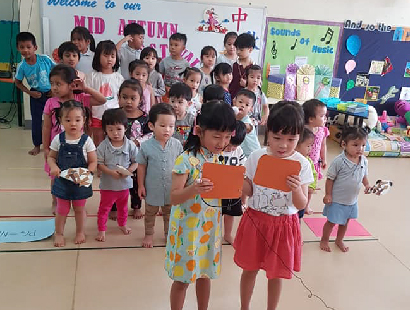 1. The Magic of Stories
As a literature-based preschool, we believe in the power of stories. Stories are sticky and allow the reader or listener to remember the lessons within much more easily than through other means.
Storytelling is an amazing way to disguise lessons as playtime. It is a valuable approach for language learning and literacy development, as it helps children develop listening and comprehension skills, and fosters their imagination and creativity. The best part of storytelling is that it can be done in so many ways, such as reading a book, retelling a story, or even making one up as you go!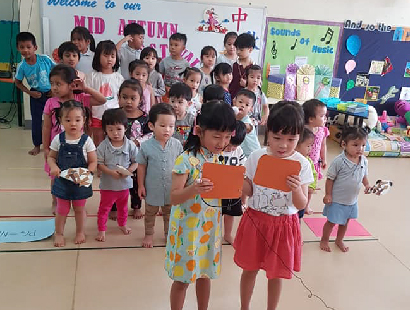 At Star Learners, our educators are trained in storytelling and elicit multiple responses from children, thereby encouraging them to converse in the language. Using a range of award-winning Chinese picture books, our educators read and act out scenes from these stories! Such dramatisation works wonders in getting children interested, especially as they want to know what happens next in a story.
At home, we encourage parents and guardians, like you, to take time to read together with your child. As a start, choose picture books with captivating visuals. Bring your child's attention to the illustrations and explain them in Chinese. Allow your child to respond in a variety of ways: through drama, writing, art, games, music and movement! Try to ask questions and encourage your child to respond in Chinese too. You can also make use of soft toys or puppets to add excitement to your story!
2. Using Music and Rhymes
Many early childhood experts advocate the use of music for language and cognitive development in early years. We, too, think it is a good idea to introduce and stimulate your child's learning of the Chinese language with songs and rhymes.
Again, remember that the key to getting your child excited about learning is to make it fun, engaging, and relevant to them. Music and nursery rhymes are perfect for that! At the beginning, children might not be able to comprehend the meaning of language well, but having them enjoy the process is more than enough!
Exposure to a myriad of song-and rhyme activities, like we do in our Chinese Language and Culture Programmes, would definitely help gain momentum in grasping the subtleties of language.
As lessons go on, children discover the meaning of specific lyrics and in turn come to love the tunes even more. They gain newfound appreciation for the music as they expand their language skills.
Try playing Chinese songs during your child's commute in the car, or have these tunes in the background while at home. While listening, encourage your child to sing along or dance to the music. We observe children enjoying it even more when adults join in the fun too!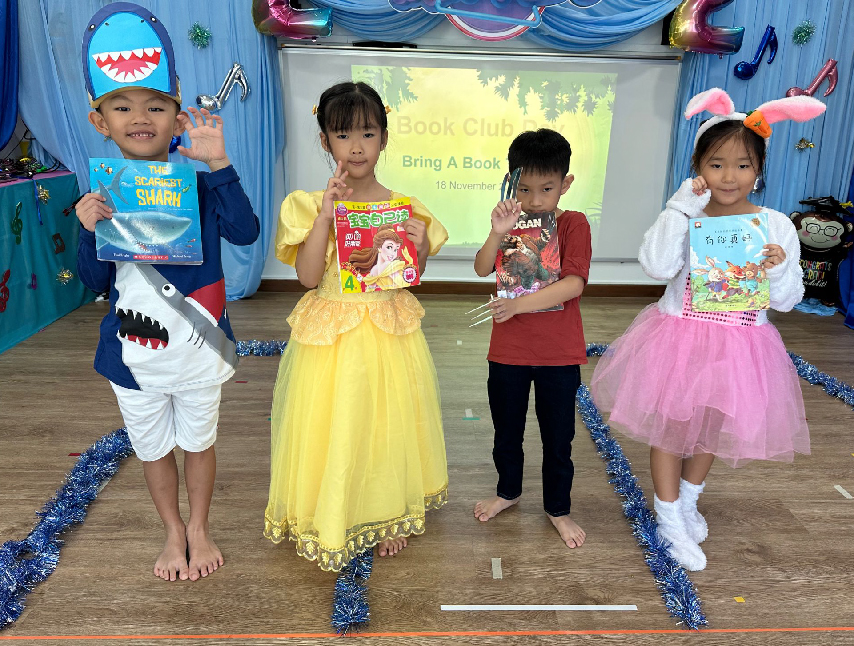 3. Learning through Roleplay
Roleplay is one of the most effective ways to learn, and is also one of the most popular among preschoolers. Our termly Book Club Day is testament to that!
On this special day, both children and teachers dress as characters from a story, usually from a Chinese picture book chosen together as a class. They are often very excited to start the Day in their chosen character, and usually come prepared with their characters' lines from the stories. As they recreate scenes alongside their peers and teachers, children practise the language with their friends. Their speaking and listening skills in Chinese usually improve after these sessions!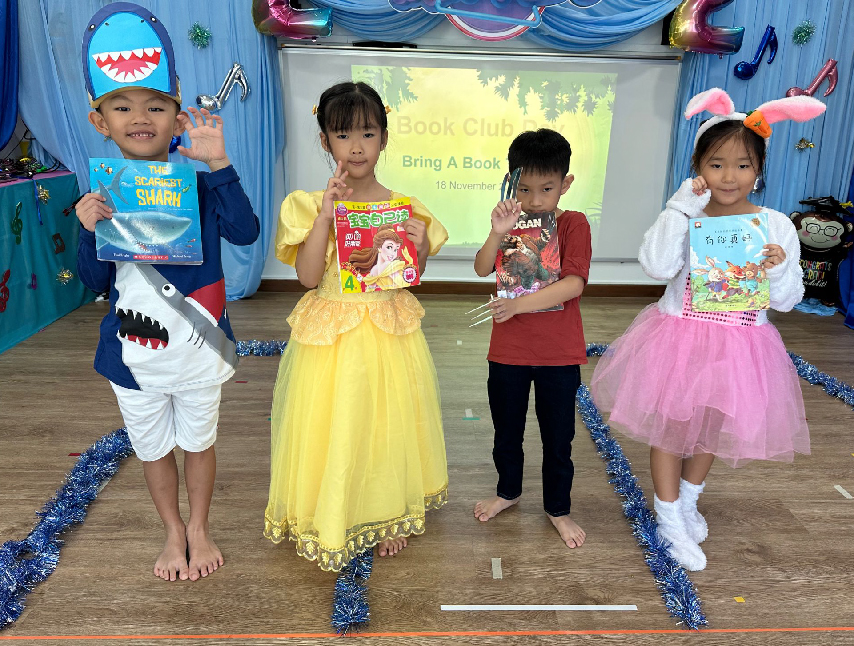 Technically, role playing can be done without props or costumes, but having them can help children to really get into character and have an immersive, enjoyable experience. 
Role playing can be equally fun at home! Create opportunities to roleplay with your child after enjoying a book together. Sneak in some Chinese phrases or sentences from the book that can be useful in day-to-day communication!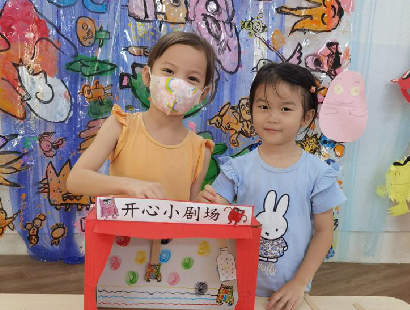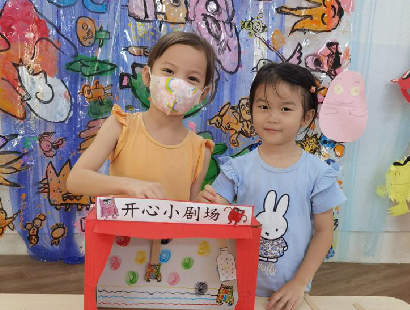 4. It's all fun and games
As we all know, children love playing games and we have no doubt that it is an effective way to develop language acquisition skills, especially for a second language such as Chinese.
We don't mean for you to crack your brains and invent new games. Use whatever Chinese learning materials you have at home! This may include items like flashcards and puzzles. The idea is to work Chinese vocabulary, characters, and phrases into the games.
For a really simple game younger children will love, try presenting images of items and the corresponding Chinese names on separate cards. Ask them to match the cards to each other. As they do that, they learn matching as well as the Chinese characters for various objects.
If you have more than one child, you may even add an element of friendly competition so that children are doubly motivated to learn to recognise the characters faster!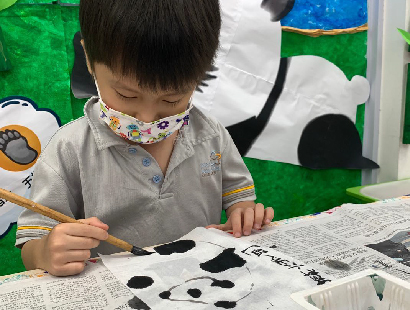 5. Get crafty
We shared how craftwork is vital for young children's development. Similarly, hands-on art or crafting projects provide an opportunity for children to learn new Chinese vocabulary related to colors, shapes, and themes. 
For example, during Chinese celebrations like the Mid-Autumn Festival, create a lantern together with your child. While doing so, you can introduce them to new Chinese words relating to the lantern or the festival, such as colours, shapes, sizes, and introduce them to the origins and names of characters behind the festival.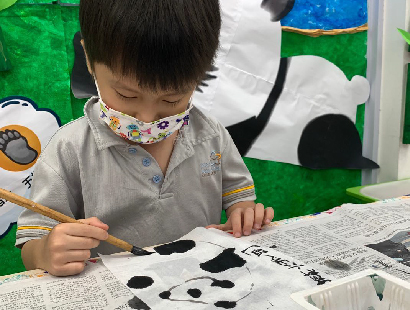 You can even get your child started on writing basic Chinese characters with these projects — something we often do with our children!
At Star Learners, appreciation for Chinese culture is also instilled through art activities like Chinese paper-cutting, calligraphy, ink wash painting and more! 
6. Consistency is key
Making Chinese an everyday language will help children develop comfort with it. Afterall, consistency is key when it comes to language learning. The easiest way to do that is to ensure that parts of their daily routine is communicated to them in Chinese.
Try adding it into regular activities such as brushing teeth, bath time, or meal times. Introduce new items or phrases to your child day by day, and you'll be surprised at how much their vocabulary can expand!
As most families catch up with one another at mealtimes, you can perhaps start to make it a habit to converse in Chinese during dinner. You can also switch to reading Chinese books at bedtime, or set aside some time each day to watch Chinese cartoons or educational programmes together.
All these work together to help your child learn and practise the language in a relaxed setting that doesn't put pressure on them. As you repeat the routine daily, your child will also begin to see Chinese as just another of the languages you use at home.
Boost your child's Chinese language learning with us
There are so many ways to make Chinese learning fun and rewarding for young ones. The tips we've shared here are just the tip of the iceberg, and we're sure you can come up with even more ideas to make the learning process exciting for your child!
Besides immersing them in the beauty of the language during lessons, Star Learners also provides Chinese Speech and Drama enrichment to further spark your child's curiosity and enthusiasm for Chinese language and culture. 
Find out more by registering for a personalised school tour at any of our 43 Star Learners centres island-wide now!