Toddlers are endless bundles of energy. At this age, they engage in more active play than before – running, climbing, and fiddling with an array of toys and objects during their playtime. As parents and caregivers, we all know that keeping them occupied all the time can be a major challenge. 
It's easy to feel overwhelmed at this stage, especially if you find yourself cooped up indoors with your toddler. But spending time at home together also presents a wonderful opportunity to bond!
To help you out, we've put together a list of easy activities for you to engage your young one at home. Not only will these make for fun times together, they also encourage your toddler's creativity and help them learn and develop new skills!
1. Sticky Spider Web
Start by making a spider web with tape. Mimic a spider web pattern over a small open door or a narrow corridor, with the tape facing out so that objects can stick to it.
Then, get your toddler to scrunch up old newspapers into paper balls together with you. When done, take turns with your child to throw these paper balls at the web, and see how they stick! This is your cue to teach them about how spiders make use of their woven webs to trap insects for food.
If your little one is up for more, take it further by challenging him or her to a game. Have a friendly competition to see who can stick the most number of paper balls onto the web! At the same time, you can turn this into a numeracy activity as both of you count your scores together. 
You can also try to get your toddler to aim his or her throw at specific parts of the web, or to do so from increasing distances. This is a great way to work on your child's fine motor skills and improve hand-eye coordination!
2. Lines of Coloured Tape

In this activity, use coloured tape to create a variety of patterned lines on the floor – straight, curved, or even zigzag ones!
Encourage your toddler to walk on the lines with you. Once they have gotten the hang of it and learn how to balance themselves, start adding challenges.
For example, you can get them to walk backwards along lines or try jumping from one line of a specific colour to another. If your child's got a good sense of balance, you can even make the game more challenging. Make use of objects around the house such as pillows or stuffed toys, and get him or her to walk around or over these obstacles!
After the activity is over, you can also repurpose the tape on the floor as a vehicle track for your toddler. Build a city around the track, or simply line up toy cars in a row!
Activities like these help enhance physical abilities in the early years, such as balance, coordination, and gross motor skills. These are similar to some of the warm-up exercises we use at Star Learners for our sport enrichment programmes.
3. Frozen Icy Fun
Ice play is one of the easiest activities parents can carry out at home. It's relatively inexpensive, non-messy, and is an excellent way to provide children with a fun and stimulating sensory experience. Just get ready with a couple of towels and you are good to go!
First, place little toy figurines into your ice cube tray and freeze them along with water. For bigger toys, you can make use of larger containers and freeze them in the same way too. If you have food colouring at home, try making coloured ice cubes to pique your child's interest in the activity.
Once the cubes are frozen, place them in a large basin along with some water. You may want to lay down some towels or do this in an outdoor area of your house so that the surrounding does not get too wet!
Then, guide your child's play by providing prompts. Ask them to touch the ice and then introduce vocabulary terms like "cold", "frozen", "wet", and "slippery". Get them to think about how they can try to get their toys out of the cubes. Or if they have coloured ice cubes, ask them what colour they think the water will eventually turn to and ask them to explain why?

You can even start sharing basic science concepts, such as the different states of matter or the concept of heat. As an example, you can show them that if you hold the ice cubes they'll melt quicker and release the toys more quickly due to the heat from your hands.
We promise this is more interesting to a toddler than you might realise! Playing with ice provides a unique and stimulating experience for toddlers. 
4. Knock 'em Down
Transform your corridor into a bowling alley! Get your hands on 10 empty water bottles of the same size, and set them up as pins in the shape of a triangle.
Using a ball, get your toddler to roll it down the corridor to knock down as many pins as possible. To hone gross motor skills, he or she can also choose to kick or throw the ball instead.  
To up the ante, use a permanent marker to add a numerical value on each pin. You can take this opportunity to introduce simple counting and the concept of addition to your child.
The only downside? Having to reset the pins after every try. But we guarantee the hard work will be worth it when you see your toddler's smiles!
5. Feed the Monster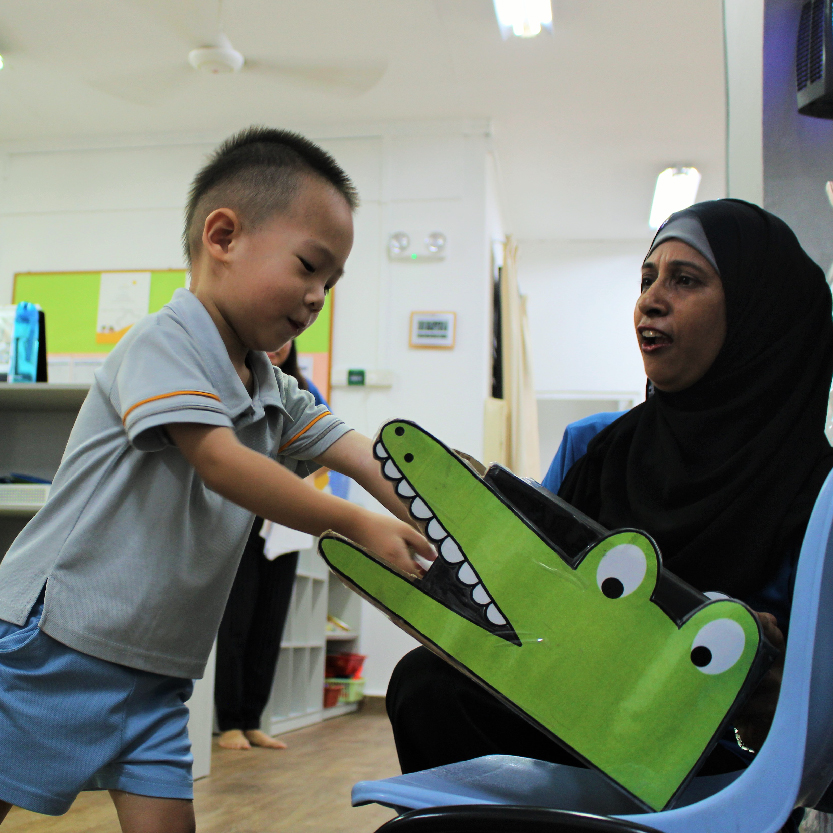 We've saved the best for the last – this is an absolute favourite for our children! 
Get an empty box and fashion it to look like a cute monster's face, cutting out a small hole to resemble an open mouth. Then, get your toddler to 'feed' the monster with a large variety of items with different textures, shapes and sizes: Duplo pieces, his burp cloth, pieces of bubble wrap, recycled water bottles, etc.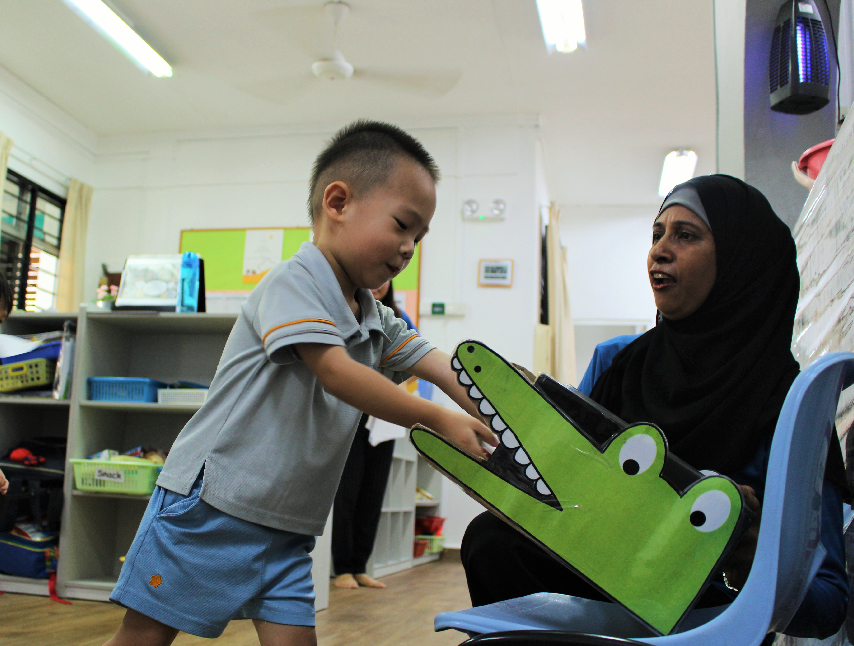 Then, challenge your toddler to reach inside the monster's mouth to find the object you need, just by feeling around. Get him or her to close his eyes while doing so, to add an element of excitement to this game! This sensory activity is a great way for young ones to heighten their sense of touch and feel of objects, and help them sharpen their skills as they try and figure out what the objects might be.
When your toddler is done, shake things up by asking him or her to place other objects in the box instead, and have you guess them instead!
Enrich your toddler's early learning experiences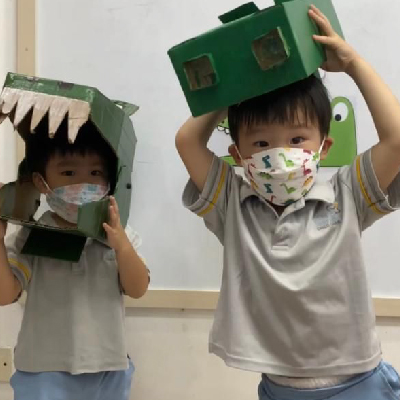 There are so many ways to keep toddlers engaged as they grow and learn about the world around them. Keep following our blog as we share more tips to help you in your parenting journey!
If you prefer to leave it to the expertise of experienced early childhood professionals, consider enrolling your little one in our infant or child care programmes. Our team at Star Learners across 43 centres island-wide are well-trained in nurturing young minds, keeping them stimulated and curious. 
Want to know more? Register your interest for a personalised school tour at any of our centres and learn how we can partner you in caring and developing your child in his or her early years!