Our Programmes
Our framework is founded on the Belief that we inspire heroes through the power of stories. We harness the magic of stories to immerse every child in rich and exciting worlds where they tackle concepts and skills in multiple Learning Areas. Each featured story is thoughtfully curated from children's literature around the globe – opening a world of perspectives that will inspire children to become heroes of Character, Confidence and Creativity. Heroes of mind and heart.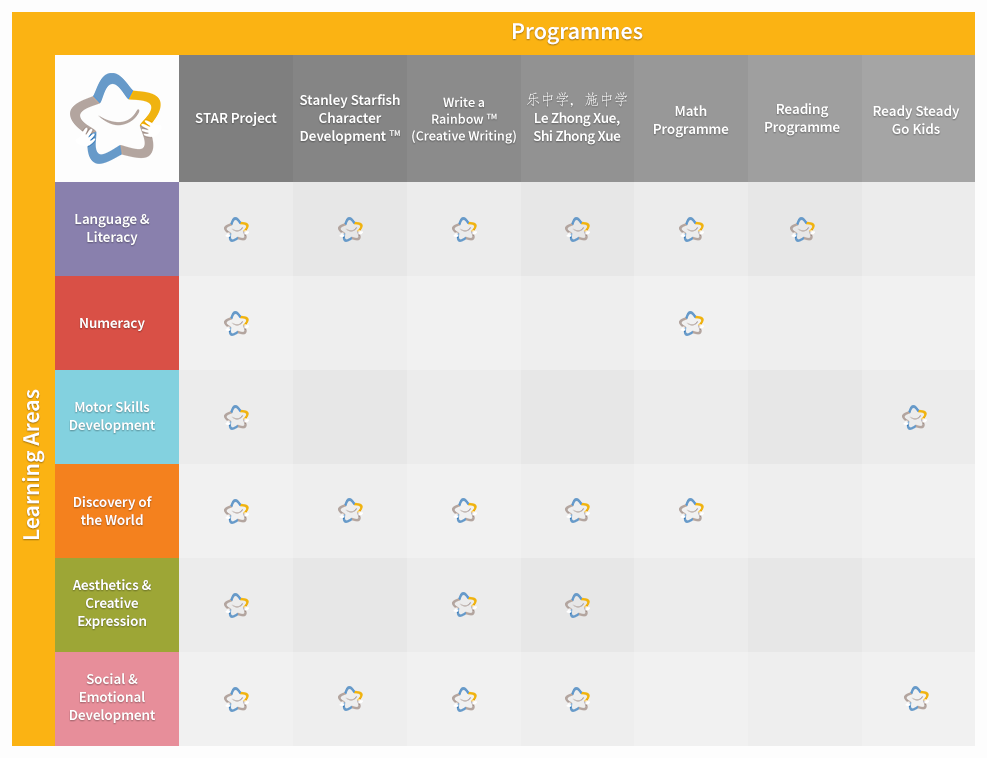 Stanley Starfish™ Character Programme
Character education isn't simply telling a child what is right or wrong. In reality, it only imposes a set of rules, rewards or punishments that results in limited or arbitrary change. Through our bespoke Stanley StarfishTM Character Programme, important character traits are introduced through stories and authentic contexts, giving opportunities for the children to apply what they have learnt. Character, social and emotional development are integrated into everyday school life, laying the foundation for satisfaction, security and success for the children.
This foundation begins at Star Learners – where character is not just taught, but caught.
Write a Rainbow™

This programme aims to give a voice to each child by putting together a simplified writing process specially tailored for our young blooming writers. It seeks to provide a channel into their personal world of fiction, and gives them first-hand experience in writing a story. By using the varied colours of the rainbow we help the children associate the different story elements with each colour, injecting more life into their writing.
Ready Steady Go Kids
Ready Steady Go Kids (RSGK) is Australia's largest and most reputable multi-sport and exercise programme for pre-schoolers. In this programme, children are taught the fundamentals of 10 different sports in a social, non-competitive, team-based environment. The fun, physio-designed sports and fitness activities seek to promote a healthy lifestyle, develop a lifelong passion for physical activity, decrease childhood obesity, increase confidence; and prepare children for participation in school.