School Tour 2021/22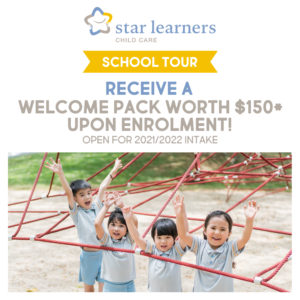 What do you want your child to be when he or she grows up? In a world that needs more kindness now than ever, it's not enough to raise a generation of straight-A scholars.
What we need are heroes with strong values who care deeply for their world and beyond – the kind we raise at Star Learners. Our literature-based curriculum coupled with an activity-based approach allows children to learn meaningfully through engaging stories and authentic contexts, developing them into Happy learners, Empathic thinkers, Respectful, confident communicators and Open collaborators.
Join us at our School Tour to find out how we empower your child to be that Hero and nurture him or her with the right skills to thrive in life.
Enrol your child at any of our participating centres before 31 December and receive a Welcome Pack worth $150* when you enrol with us!
Terms and Conditions:
Valid only for first-time enrolment into Star Learners.
Valid only for registrations for full-day child care programme.
Registrations must be completed no later than 31 December 2021.
Child must commence school no later than 31 January 2022.
Promotion is open to all Star Learners centres, subject to centres' vacancies.
Star Learners reserves the right at any time at its sole discretion to determine, vary or change from time to time the terms and conditions of this promotion without prior notice.
Sign Up